The Journey to Marlborough
1684
First record of a Le Brun planting vines in Champagne
1791
First recorded date of a Le Brun producing wine in Champagne. Recent renovations by
Daniel's sister Isabelle at the family winery in the village of Monthelon has revealed an engraved date 1791 on the family heirloom press.
1945 – 1974
Daniel grew up working on the family vineyards in Champagne. He went on to complete his oenology and winemaking studies at the Champagne School in Avize. As the eldest son and 12th generation vigneron he was set to take over the family business from his father.
1975
After hearing tales from grape pickers of a terroir and sunshine hours to rival that of his native Champagne Daniel set off to explore the antipodes. He began researching and visiting potential sites to find the perfect location for his Méthode Traditionelle vineyard. He quickly fell in love with New Zealand, which became his focus.
1978
Daniel met Adele in Rotorua and as she cared for her dying mother, he put his location search on hold.
Having heard of Montana planting vines, Daniel visited Marlborough for the first time.
"I was immediately convinced this was the place to be. The soil and the climate reminded me of Champagne in the best vintage years, yet it happens every year here in Marlborough. There was no winery infrastructure back then, just bare paddocks with almost desert-like conditions, not a blade of green grass to be seen, just a few dusty sheep and that was about it." – Daniel Le Brun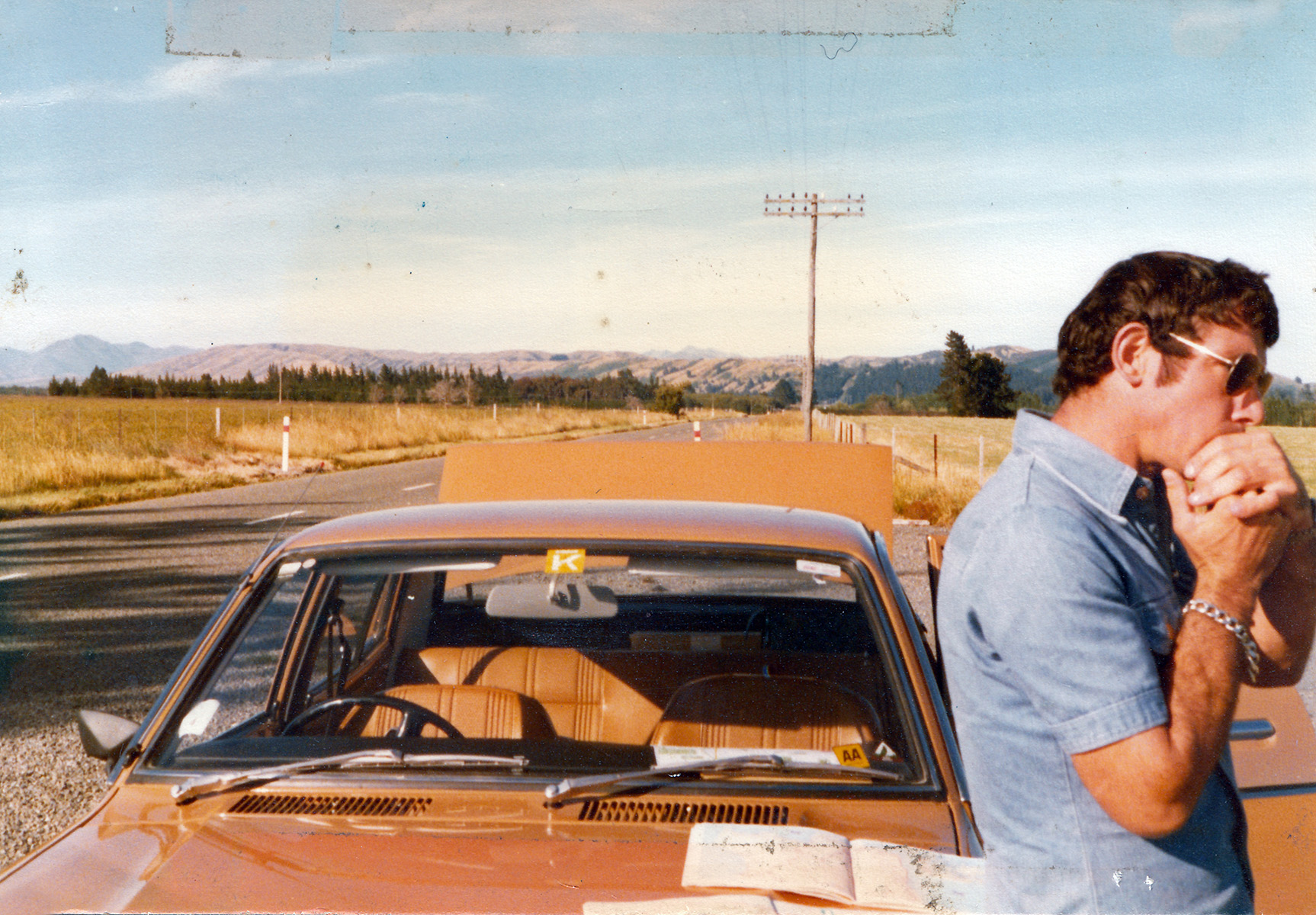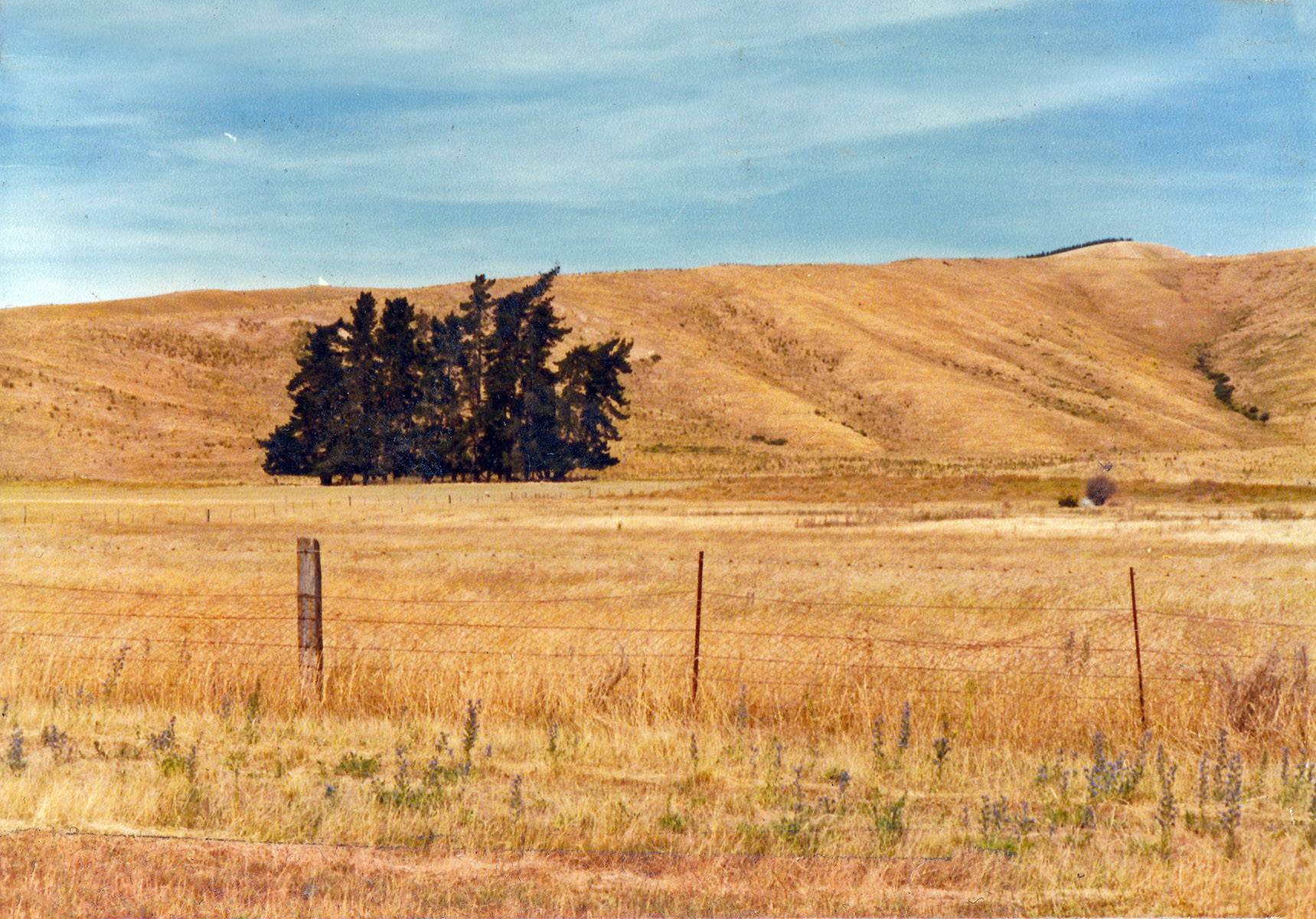 As a habitual nail-biter during times of frustration or excitement, this image captures Daniel's excitement while discovering Marlborough on his first visit in 1978.
1979
Adele and Daniel were married in January and 18 months later their first child Virginie was born.
Daniel made the decision to sell some of his vineyards in Champagne to his brother in anticipation of financing a future move to Marlborough.
While still living in Rotorua Daniel began collecting vine cuttings from vineyards in the North Island to establish a nursery. In a time when Muller Thurgau was predominant with a small amount of Riesling and Sauvignon Blanc, he stuck with the classic Champagne varietals Pinot noir, Chardonnay, and Pinot Meunier.
New Zealand's First Méthode Traditionelle Specialist Winery
1980
Adele and Daniel, along with 4-month-old daughter Virginie, made the move to Marlborough. Daniel brought with him 50,000 cuttings from his Rotorua nursery. These hand-grown vines went into cool storage until they purchased 30 acres along State Highway 6 to plant their first Marlborough vineyard and a site in Renwick (where Mahi is today) for the winery.
Daniel took on a second job, developing and managing vineyards for absentee owners while he waited for his vines to grow and imported specialised equipment to arrive. To develop his vineyard and Méthode Traditionelle venture from scratch took significant investment and many years before the wines would be commercially available.
"Working grower vineyards by day and his own vineyard at night, it was no surprise that neighbours referred to me as 'The Widow'." – Adele Le Brun
1983
Daniel began construction of his winery, including New Zealand's first underground cellar, which involved shifting a hillside. He was New Zealand's pioneer for classic Méthode Traditionelle as a commercial venture. His growing techniques and production methods used in Champagne were unknown here and he soon became known as 'The Crazy Frenchman'.
Daniel's vines were ready for their first harvest and New Zealand's first commercial traditional method winemaking journey moves forward.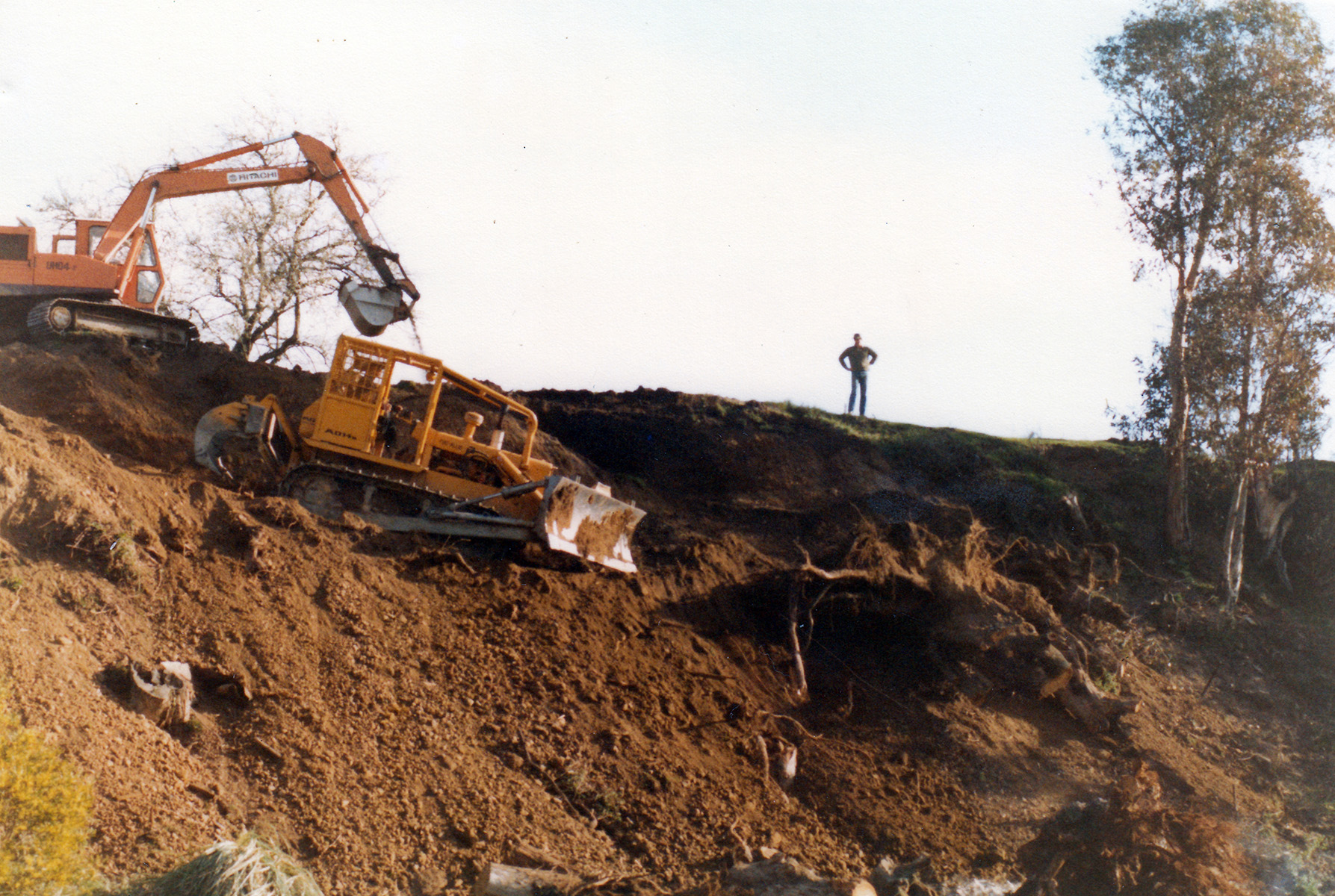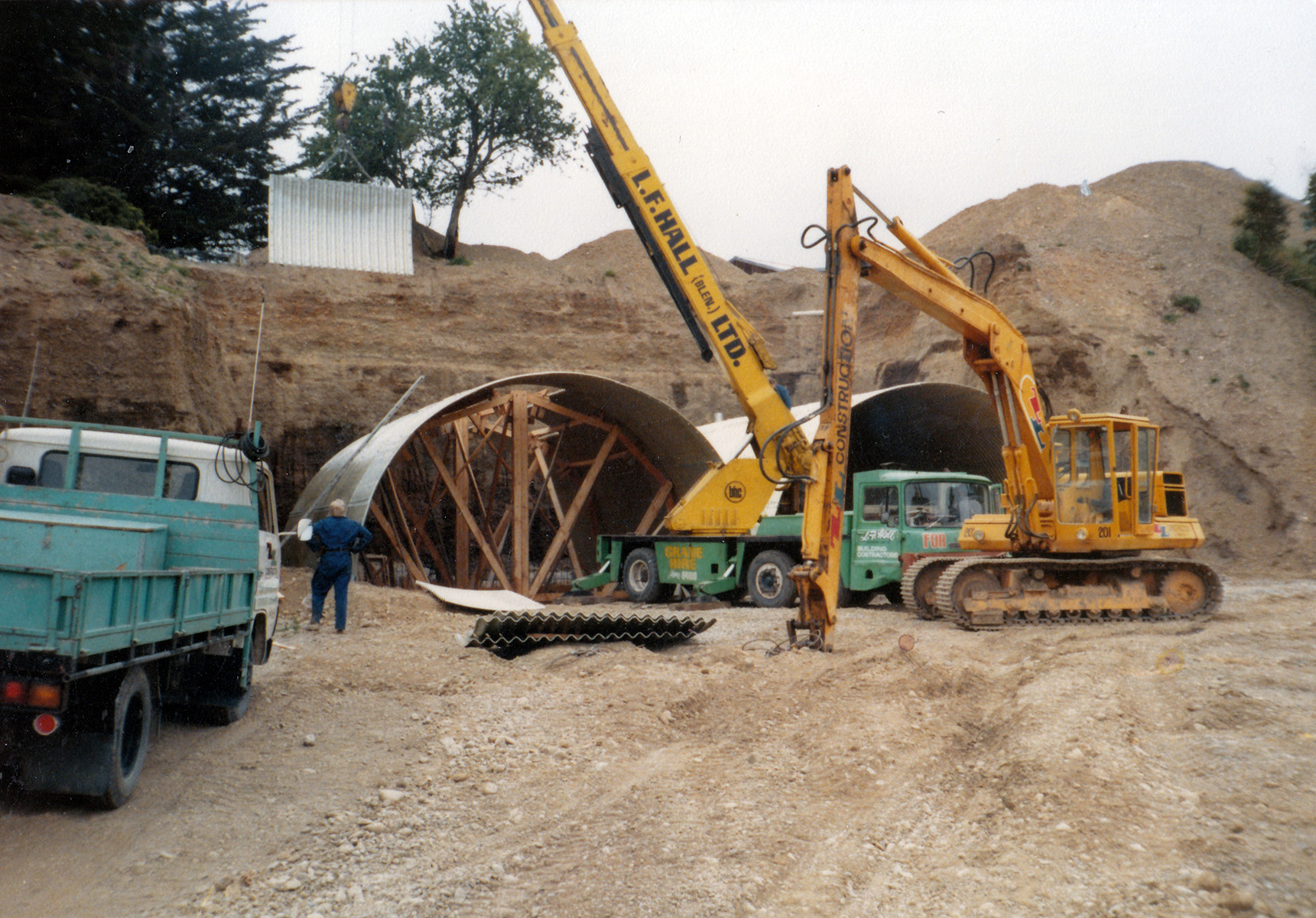 Left: Daniel overseeing the digging out of the hillside. Right: Construction of the underground cellar 1983.
1984
A specialised Champagne press 'Vaslin Champagne 4000' used specifically for the production of Méthode Traditionelle arrived after 5 months in transit from France. This press is integral to the traditional method and is still used in the No.1 Family Estate winery today.
A committee initiated by Ernie Hunter was set up to celebrate and educate the public on Marlborough wine. Adele and Daniel became founding members along with Te Whare Ra, Montana (now Brancott), Penfolds and were later joined by Cloudy Bay and Corbans. This committee came up with the idea for the Marlborough Wine & Food Festival which was first sponsored by Air New Zealand and has been running 35 years.
1985
On the 5th November 1985, 5 years after their arrival in Marlborough, Daniel and Adele finally celebrated the first release of Daniel Le Brun NV. They were in the company of 200 guests, the French Ambassador Mr Jacques Bourgoin and New Zealand's House of Representatives and renowned wine buff, Jonathon Hunt. Jonathan opened their first bottle of wine in the time-honoured tradition of sabrage.
1989
Son Remy is born during the Marlborough Wine & Food Festival, the first time since its inception that Adele had missed the occasion.
1995
Over the years Daniel has achieved countless national and international awards for his wines. At the Liquorland Royal Easter Show he was awarded the Trophy for Champion Wine of Show – the first time this has been awarded to a Méthode Traditionelle.
1996
Adele & Daniel leave their first venture Cellier Le Brun. The Daniel Le Brun brand is now owned by Lion Nathan.
No.1 Family Estate
1997
Adele & Daniel's new venture No.1 Family Estate is born. As they could no longer use their name as a brand, they chose No.1 Family Estate in recognition of the many 'firsts' in New Zealand wine they had achieved over the years.
In this year Daniel was also awarded the Chevalier Order of Merit by the French Government for his diplomacy work in helping to restore French-New Zealand relations after the bombing of the Rainbow Warrior.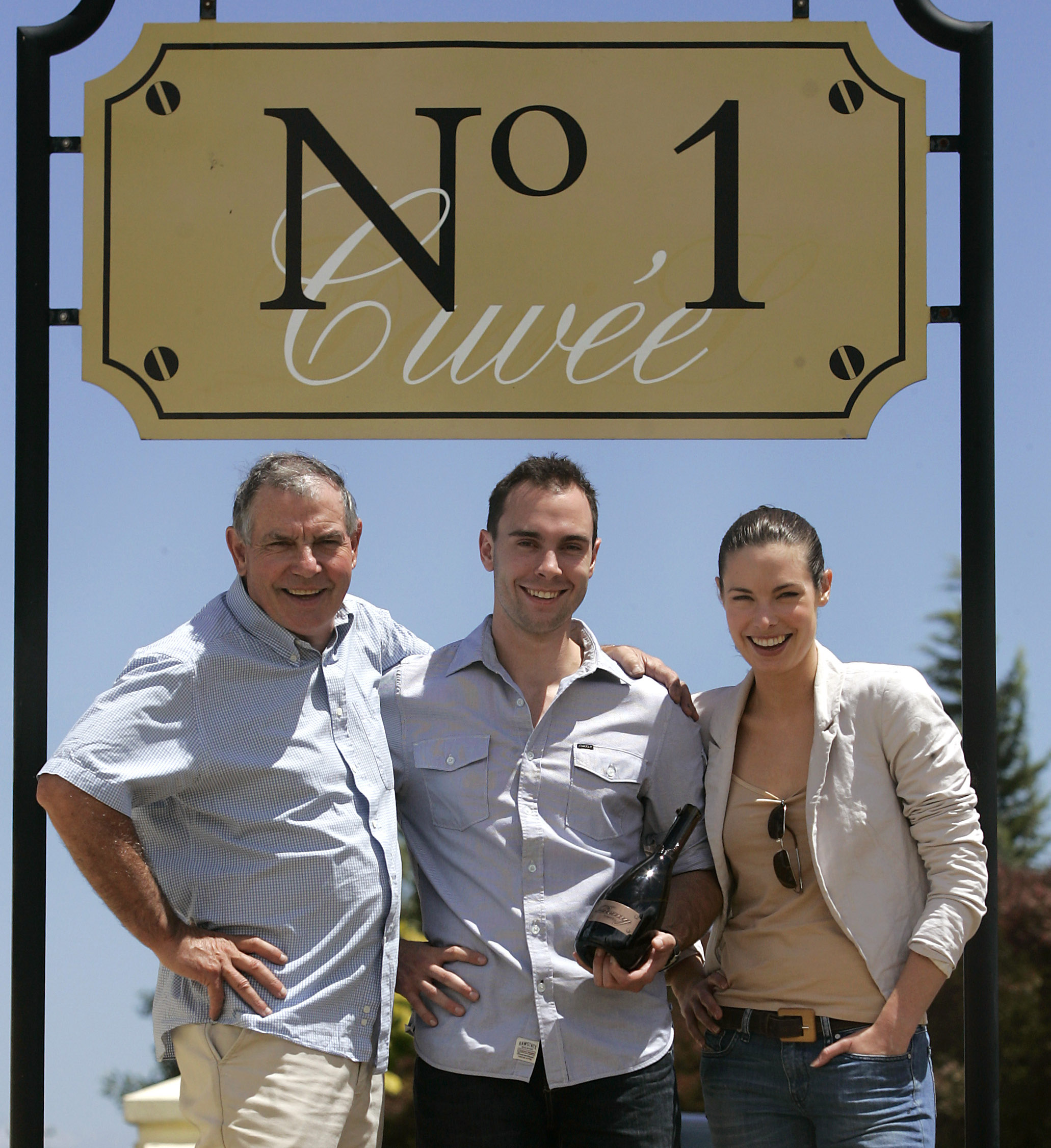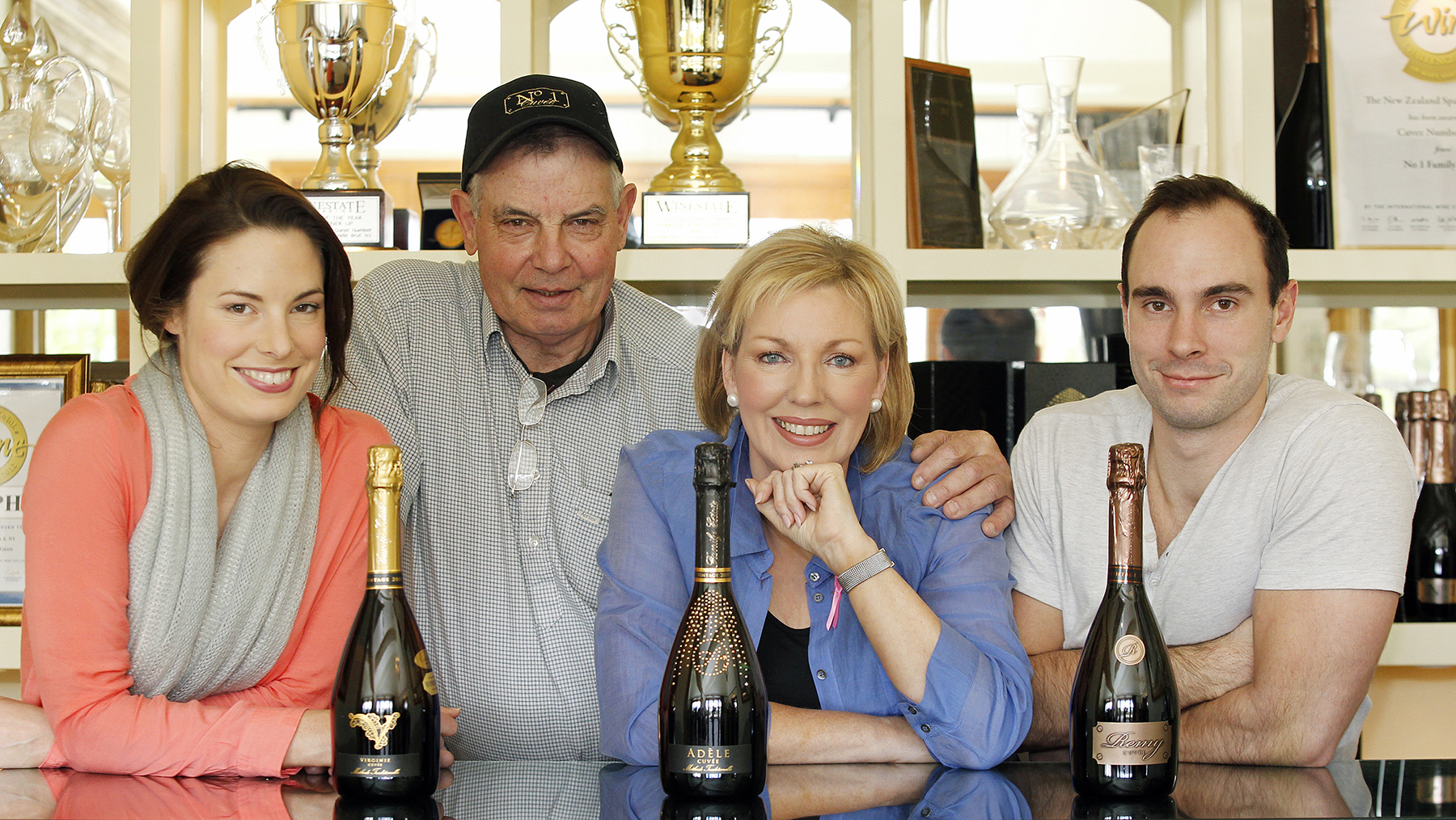 1999
The very first Cuvée No.1 was released on Bastille Day 1999. To celebrate the new venture and family business Adele and Daniel allowed each of their children to take center stage for the release events. 20-year-old Virginie lead the release in Auckland. As unpredictable as the weather in Auckland can be, a blanket of fog prevented them from making the next day's planned Wellington release. The event went ahead with 10-year-old Remy representing the family and supported by his Aunty Lynne and close friends (and surrogate grandparents) Bruce and Beverley Cook.
2002
Samantha Scott joined No.1 Family Estate in an administration role, but with her background in banking and attention to detail this evolved into General Manager. After 18 years Sam is setting off in March 2021 for a new adventure to join her daughter in Napier.
2003
Lee Dobson joined No.1 Family Estate assisting in the winery and vineyard, aged 19. Showing passion and dedication he was supported with his winemaking studies and mentored by Daniel. Taking around 6 years to complete as he juggled study with work Lee is now No.1 Family Estate Winery Manager, working in the winemaking team and managing the client processing business. Lee has 3 full time staff who have joined the team at various stages; Joff (1997), Mike (2012) and Dan (2019).
2006
Daniel was awarded the Chevalier order of Agricole by the French Government for services to viticulture through consistent excellence.
2012
Adele, along with founding partners Nautilus and Cloudy Bay, set up Méthode Marlborough. The aim of the group was to provide New Zealand consumers an assurance of quality. Members must conform to the traditional method of secondary fermentation in the bottle, followed by riddling and ageing for a minimum of 18 months on lees before disgorging. Méthode Marlborough wines must be made exclusively using 100% Marlborough grown grapes either as a blend or alone.
"Importantly, Méthode Marlborough members use the traditional grape varietals of Champagne and adhere strictly to the traditional method and is an assurance of quality from our region." - Adele Le Brun
No.1 Assemblé was the first wine in New Zealand to be labelled 'Méthode Marlborough' in place of Méthode Traditionelle.
The New Generation
2013
After establishing herself as a successful actress and TV presenter, starring in New Zealand's most iconic children's show 'What Now' and as an actor in the nation's most loved and long running TV soap 'Shortland Street', Virginie moved to London. While working at Amathus Drinks she discovered a passion for selling fine wines and spirits. Through regular trips to visit her family in Champagne she began to feel a deeper connection to her heritage and the family brand. Virginie became the UK & Europe Brand Ambassador.
2015
A family trip to England and France became a defining moment for Remy and his desire to continue the legacy of Le Brun family Champagne-makers. On this trip he struck up a special bond with his grandfather Rene (Daniel's father) as they explored the many family heirlooms and generations of Champagne-making. Remy has since brought his great-grandfathers fermentation tank to New Zealand and is using it for a special project as a nod to his heritage.
"For many years I resisted coming into the family business as I felt I would be piggy-backing on our parent's success. On this trip I was able to see everything first-hand and had this overwhelming pride in our family history. No one was more surprised than myself that I wanted to join the family business." - Remy Le Brun
2016
Shortly after his return to New Zealand Remy started in a Sales & Marketing role in Wellington for No.1 Family Estate.
2017
Remy began his Bachelor in Viticulture and Winemaking, juggling his studies with managing the vineyard and winemaking alongside Daniel and Lee.
Virginie returned to New Zealand and is the Sales Director, mentored by Adele.
"Family has always been at the core of what we do. To quote mum, we are first and foremost a family business. Mum and Papa have achieved remarkable success, not only as pioneers but as individuals who set benchmarks in their fields. So, it is with absolute certainty I say, I could not have a better mentor than my mother, and I know this is the same for Remy with papa".
– Virginie Le Brun
2019
No.1 Family Estate celebrated 20 years since the first release of Cuvee No.1.

Ellie Vincent joins the marketing team as Marketing Manager working alongside Virginie. Together, under the mentorship of Adele, Ellie and Virginie will be taking forward the sales and marketing previously directed by Adele.
2020
Remy finishes his winemaking studies and joins the winemaking team full time alongside Daniel and Lee.
Release of Cuvee Virginie 2016 to celebrate 40 years of pioneering Méthode Traditionelle in Marlborough and Virginie's 40th birthday year.