At No.1 Family Estate you'll know we make only one type of wine but we make it exceedingly well... There's a reason Daniel is known as New Zealand's Grand Poobah of bubbles!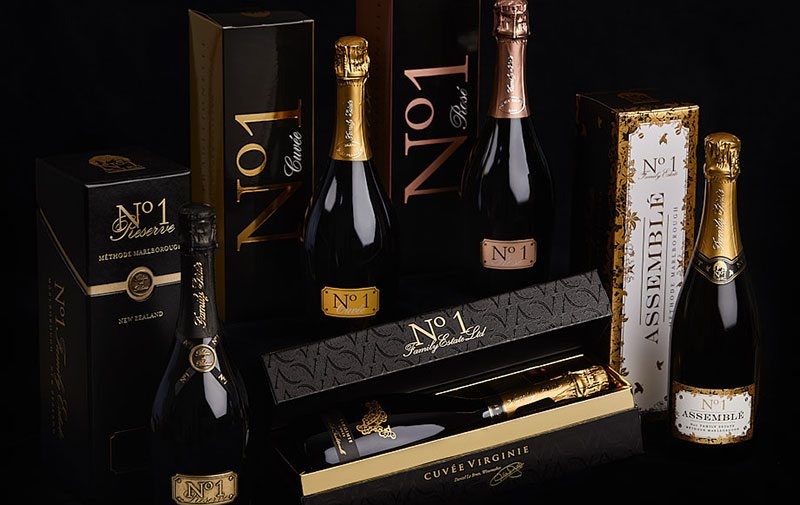 We're delighted to let you know that we've recently been awarded two new Gold Medals!
GOLD for No.1 Rose at the Champagne & Sparkling Wine World Championships
GOLD for Cuveé Virginie at the Sommelier Wine Awards
Latest Reviews
Elin McCoy (award-winning journalist and author who writes for Bloomberg News) for Decanter

Just before the annual Central Otago Pinot Noir festival in January, I was dutifully working my way through an Air New Zealand tasting in a boring hotel conference room in Queenstown, when I was bowled over by a sparkling wine I'd never heard of before. The non-vintage No1 Family Estate, Reserve from Marlborough had the fresh, complex, salty, biscuity-rich finesse you find only in Champagne – and very good Champagne at that. The experience reminded me how much pleasure I get from an unexpected wine discovery, and how many surprises New Zealand always seems to deliver. […]

I caught up with the maker of the No1 Reserve, Daniel Le Brun, at a sparkling wine brunch in Marlborough later in my trip. A native of Champagne (where his family had made Champagne for generations), Le Brun arrived in Blenheim in 1978, well before the region surprised the world with its new-style Sauvignon Blanc.
Within two hours, so he says, he was convinced he could make sparkling wine there. He'd trained with his father and grandfather in Champagne, and, he chuckles, 'I was the renegade, the first to leave since 1642'.
New Zealand's pioneer of making solely 'traditional method' cuvées learned to adapt to the country's climate while keeping Champagne yeasts and 'other technique secrets'. His first winery, which still bears his name, was sold in a complicated takeover in 1996; his first cuvée under the No1 Family Estate label debuted three years later.
An impromptu sampling – ranging from the quality, elegance and layered chalky crispness of the basic No1 cuvée, to a fragrant rosé, to the 2009 special cuvées Virginie (named for his daughter) and Adele (his wife) – showed the region's potential for great sparkling wine. […]"

Go to full article: here
Alyssa Vitrano for Grape Friend

"[…] Although New Zealand is mostly known for still wines, the few wineries producing sparkling wine are worth noting. 8 wineries have even started Méthode Marlborough to promote their traditional-method wines. We had a brunch where they paired them to a plate of savory bites and then a plate of sweet ones, and they were all pretty good.

Two sparkling wineries in the country stood out to me the most, though. In Marlborough, I tasted through the whole lineup at No.1 Family Estate, the only winery in NZ totally dedicated to sparkling wine, with founder and winemaker Daniel Le Brun and his daughter Virginie. Daniel came to New Zealand in 1978 from Champagne, which pretty much tells you everything you need to know about these wines – ie, they're fantastic!

Aside from the fact that you can't grow Pinot Meunier very well in NZ (that's one of the three traditional Champagne grapes), everything else about Daniel's wines are about as close to Champagne as you can get. I loved the rosé which was light, very dry, and full of elegant strawberry. My other favorite was the gorgeous 2009 Virginie, a vintage sparkling he made when Virginie turned 21, which was full of honey and fleshy baked apple with a rich mouthfeel. But the whole lineup was elegant and had incredibly fine bubbles. Expecting them to come in at Champagne prices, I was shocked when they said most of them were under $35 (though the vintage Virginie and Adele are more).

Only problem is that they don't make much and therefore don't export a ton to the US, which is too bad since restaurants would crush it if they had any of these by the glass. […]"

Go to full article: here
Is it time to sample some award-winning wine yourself? Shop online HERE.