Whenever we head to Auckland we like to drop into The Blue Breeze Inn. It's like an island break right in the heart of Auckland's Ponsonby Road. We caught up with the restaurant's group wine buyer and sommelier, Sonja Anich, so, we could share with you a little more about the bustling Blue Breeze Inn.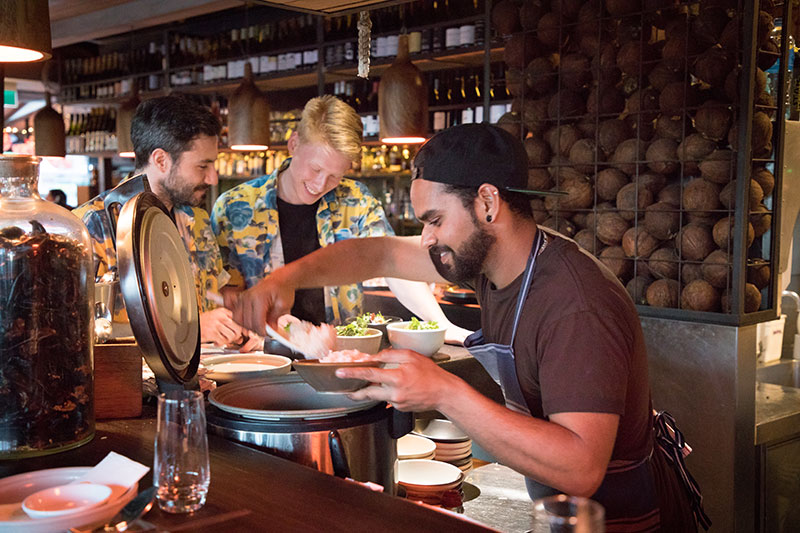 The Blue Breeze Inn - Photo Credit: Nick Reed
When did the doors to the Blue Breeze Inn first open?
The Blue Breeze Inn opened with a fabulous flourish in May 2013.
How does the Blue Breeze Inn combine Kiwi innovation with traditional Chinese food?
That's the style of our Chef Che Barrington. You take one born-and-bred kiwi boy from Nelson, send him backpacking through the backwaters of Asia to crash with families and hang out in their kitchens - then he comes back and starts experimenting, re-creating those flavours with our South-Pacific produce.
Can you tell us a little about where you source your produce from?
Chef Che heads to the Avondale markets at the crack of dawn every Sunday to get the hard-to-find ingredients from boutique growers. There are lots of herbs and veggies you get in Chinese kitchens that Asian communities in Auckland grow at home, but that still aren't coming through the Western-style suppliers.
What makes the Blue Breeze Inn unique in its style and service?
Well, we're biased, aren't we!? I think that magic at The Blue Breeze Inn comes from it being a fun, enjoyable place to work. Food that blows your socks off and a place you feel welcome... That's an unbeatable night out.
Can you tell us more about Coconut Sundays?
We do a slightly different menu every Sunday with a special focus on our Peking Duck Banquet. It's a brilliant dish for a big table of friends to share and chat for a Sunday chill session.
If you had to describe The Blue Breeze Inn in three words, what would these be?
Fabulicious. Fun. Unique.
No.1 Assemble features on your the wine list, can you share a few suggestions from your menu of dishes that it would pair with beautifully?
Our fave matches are the BBQ pork bun, tiger prawn dumplings, spicy chicken dumplings, kingfish sashimi, stir-fried prawns, steamed tuatua and stir-fried market fish. Oh... And the legendary cured salmon salad is a stunner of a match!