As the countdown to the Christmas season begins, it's easy for our friends in the Northern Hemisphere to start feeling festive before we do.
There's something about shorter days, cooler temperatures, Christmas lights and the arrival of the John Lewis seasonal TV advert that simply says… 'Tis the Season'.
If you live in London and haven't yet started to soak up the seasonal vibe then November is the time to do so!
Here are three November events that will have you reaching for the mince pies and obligatory Christmas knitwear faster than Rudolph can eat a carrot!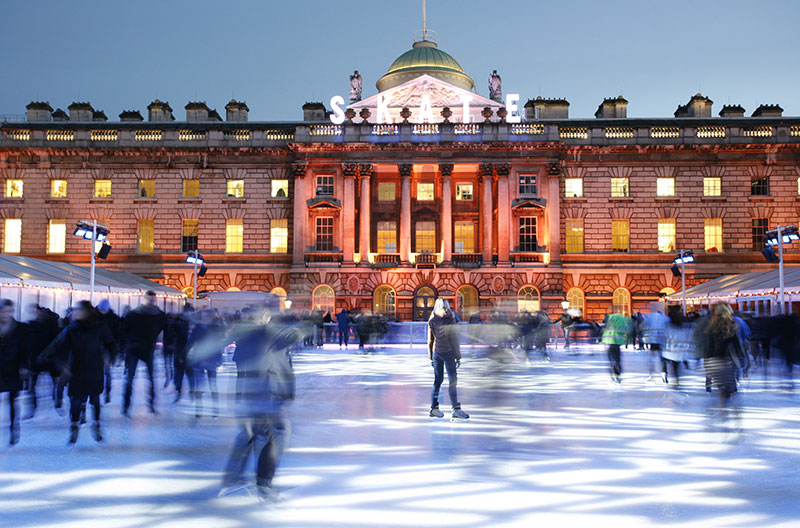 Skating at Somerset House:
The city's iconic Somerset House ice rink opens on November 13th. With decorations courtesy of Fortnum & Mason it's a festive extravaganza! Ready to get the Christmas party started. Don't miss the Somerset House Skate Lates, a series of evening sessions featuring DJ sets from emerging talent.
Christmas at Flat Iron Square:
Monday 11th November sees the return of the Apres Ski Lodge to Flat Iron Square, London's liveliest cultural hub.
From feasting on street food to popping your feet up in front of a magical movie. There is so much to enjoy. You can also make a start on your Christmas shopping. On Saturday 30th November, there's a special festival with a Conscious Christmas Market featuring over thirty independent traders.
Cracking Christmas Wines with Three Wine Men:
On Friday 22nd and Saturday 23rd November Lindley Hall will be transformed into a winter wine wonderland – the highlight of every wine-lover's calendar.
Hosted by Oz Clarke, Tim Atkin MW and Olly Smith, this event is the perfect way to choose your favourite festive wines.
We will, of course, be there, and can't wait to share our No.1 Family Estate wines with you. Enjoy tasting the classic No.1 Cuvée, the fresh and inviting No.1 Assemblé, the dry, fresh and elegant No.1 Rosé and our limited-edition No.1 Reserve.
Read more and buy tickets HERE.