We're so thrilled to have wonderful associations with restaurants all around New Zealand, and even overseas. But there's always something rather special about having a fabulous award-winning restaurant right on our very doorstep. Arbour in Blenheim is exactly that and in this week's post, we caught up with Arbour's co-owner, Liz Buttimore, to find out exactly what makes Arbour such a highly regarded, stand out restaurant.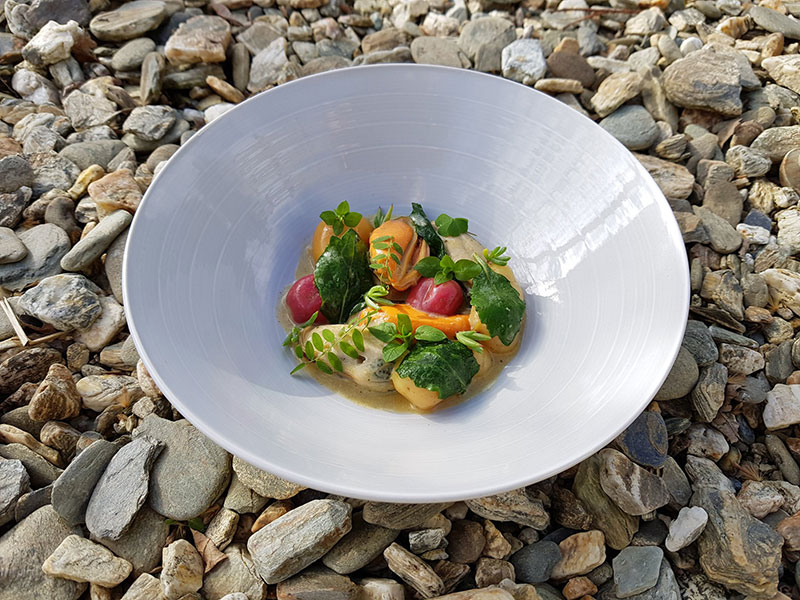 Arbour - Greenshell mussels, yuzu butter, baby gems and beach herbs
Why is Blenheim, Marlborough the perfect location for Arbour?
I feel like we have found our 'people'. A set menu restaurant on a country road in a sparsely populated region without a nearby city shouldn't exist. But it does and in fact, it has become an integral part of the region's food and wine scene. We love the wineries that surround us and nurture us. They encourage us to continue pushing and improving through both their drive to be better each year and through their sales journeys. They eat in the best restaurants in the world and we don't want them to come home and feel 'stuck' eating with us. We change parts of our menu several times a week to ensure that we can use all the local produce coming through each season and we spend a lot of time with our suppliers coming up with different consumer products and ideas. By buying local we are not compromised for quality in any way. We are working with what we believe to be some of the best products available. We don't feel like we are 'helping' local suppliers by using them, we feel that their product gives us a true taste of our area, a strong identity and creates a strong Marlborough story for our diners.
Can you tell me a little bit about the dining style at the restaurant?
Bradley and I are both from formal, structured dining environments. However, Arbour's unique style came from an experience of dining in our 'dream' restaurant years ago. We saved up for a long time, donned a suit and cocktail dress and feeling like ducks out of water (or chefs out of their Birkenstocks) proceeded to have the worst dining experience. So bad we don't really remember the food, which was incredibly good. From the moment we entered the doors to the moment we left we were made to feel like we were not welcome or good enough. Quite ironic when you are spending $800 for two and you know the wage the waiters are on. We don't want to make anyone feel down about themselves or be the catalyst for an argument on the drive home. We want our customer's taste buds to be happy, relaxed or excited so that they remember our food, our names and think about us fondly in the future. I would describe our style as contemporary New Zealand food using local Marlborough produce with service that makes you feel as warm as a hug from Nana.
What sort of foods can guests expect to enjoy? And how do these change seasonally?
We use mostly local produce so our food changes often to make the most of what is coming through. We use Premium Game for different wild meats depending on the season, Cranky Goat Cheese (both their winter and summer milk cheeses), Windsong plums and blueberries in the peak of summer, Flaxbourne lamb for six months spring to Autumn, Uncle Joes nuts all year round and their green walnuts in December, Marlborough Garlic Company's shallots, garlic and black garlic, Caythorpe cherries in December, Mr Burn's and Old Road Estate Figs from February to April and Cloudy Bay Clams for nine months of the year. We use many different local olive oils, nut oils and even flour and salt, forage and keep notes on when our wild produce is in season such as the pink peppercorns, fennel pollen, wild cherry plums, apricots, different leaves, nuts and coastal and pasture herbs.
What makes Arbour unique in its style and service?
People know that we care. We care about our product and how we showcase it and we genuinely care about every guests dining experience. We want them to have a lovely evening and to go away thinking fond thoughts about us. We know many have to save for a special dinner and it really is humbling when they decide to spend those savings here.
No.1 Assemble features on your wine list, can you share a few suggestions from your menu or the produce you serve that it would pair with beautifully?
We love to serve No.1 Assemble with our chicken and black garlic parfait, blueberries, lemon gel and sourdough crisps or with steamed Cloudy Bay clams, miso butter, sea spinach and kawa kawa.