Summertime brings with it a renewed energy and eager playfulness. It give us the perfect reason to slow down, take a break, and refocus our energy on the things that matter most in life – adventure, rest, relaxation, and of course refreshing summer bubbles. Whether you're poolside, beachside, or mountainside, a glass of bubbles (or two) is sure to help you restore your inner zen.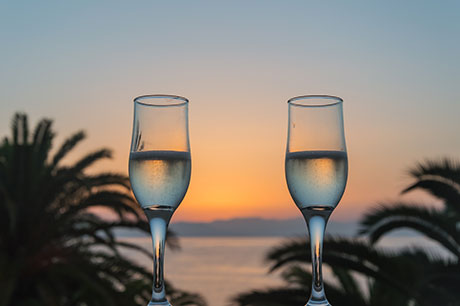 We often gauge the turning of the seasons by which drinks we desire, and a yearning for bubbles is as accurate as any calendar for telling us it's summer. It's the time for festive celebrations, and casual impromptu gatherings with friends and family, wherever the mood takes you. Day or night, at home or a welcome invitation, bubbles is simply perfect anywhere and anytime.
Here are 3 reasons why you should always have a bottle of bubbles at hand!
Popping a cork to toast an occasion with an elegant fizzing glass of bubbles is a traditional way to celebrate all around the world, (although you know our mantra… Don't save it for the celebrations). Nothing captures joy and exuberance more aptly. Hot summer days and balmy evenings are reason enough to celebrate the abundance of a perfect Kiwi summer.
Fresh, crisp and elegant, this versatile great classic tickles the tongue like stars exploding on the tastebuds. Perfect for an aperitif or throughout the evening, it can be savoured on its own or with delicious summer food pairings. Every sip provides an effervescent bouquet of freshly-picked berry fruits.
Why not surprise your host with bubbles instead of wine, and spoil them with its depth and sophistication. With its light body and tiny ethereal bubbles, it provides a little instant luxury, making it just perfect for sharing.
There is so much fabulous summertime joy that can be enhanced by bubbles, they truly are ready for any kind of party.