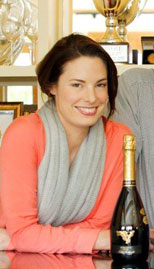 At No.1 Family Estate we're delighted to have Virginie Le Brun back on NZ soil as our Auckland Area Sales and Marketing Manager.
What could be more appropriate to welcome Virginie back than a gold medal? And that's exactly what No 1 Family Estate Cuvée Virginie 2009 was awarded at the Romeo Bragato Wine Awards very recently. With over 500 entries, just 49 gold medals for excellent quality wines (scoring 18.5 out of 20) were awarded.
It's no secret that this wine was originally crafted especially by Daniel as a proud tribute to Virginie on her 21st birthday, and Virginie remembers that this also coincided with her first attempt at sabrage, (opening a bottle of wine with a sword), although comfortable with this show-stopper now, Virginie is the first to admit she was nervous at the time.
Virginie last poured a glass of her namesake wine, on the day she returned from the U.K. She and her partner arrived in Auckland at 5am on Father's Day. Jet-lagged, they decided to catch a 9 a.m. flight to Marlborough to surprise Daniel for Father's Day. They were secretly picked up from the airport by Remy and dropped off near the family house, they knocked on the front door and surprised Daniel and Adele. To celebrate, a bottle of Virginie was opened!
Virginie will tell you the perfect way to enjoy her wine is on its own, enjoying the developing flavours as a glass naturally loses its chill. Pressed for a food match, Virginie says oysters are the way to go.
We asked Virginie what makes her namesake wine a winner, and this is what she said….
"In a word, balance. The time on lees makes for a fresh yet complex aroma and elegant flavours of stone fruits, and citrus. The finish is crisp and the length of finish, to me, is perfect."
Virginie continues by saying that the current release is a stand out, hence its gold medal. "Each vintage wine has a curve, from being young through to being past its best. In my mind, the current Virginie it at the top of its particular curve; having said that, it will sit up here for a few years to come."
When asked to answer in no more than six words to explain why you should invest in a bottle of Cuvée Virginie today, Virginie says simply… "Balance, elegance, lengthy finish, Bragato Gold." Buy yours HERE.