It's that time of year again the Marlborough Wine & Food Festival takes place on Saturday 11th February, and we'll be there to help your day sparkle!
We're as delighted to be involved in this iconic Marlborough event this year, as we were to be asked to the very first one back in the 1980s by Ernie Hunter. We've had a lot of fun over our years at the festival, with themed stands from Putting on the Ritz to an occasion where we marked the bicentennial of the French Revolution, guillotine and all! You'll have to visit us at the event, if you want to know what Remy has planned this year, but we can confirm there will be fun, frivolity and fizz!
The event garners a great sense of occasion and we've been thrilled to help our No.1 fans make their own traditions over the Wine Festival weekend. This year will be the twenty fifth anniversary that one group of special ladies, "The Girls on Tour", have been attending the event, and we always look forward to welcoming them not just to our stand on the day, but also to our cellar door on the Sunday. The Girls on Tour inject some real glamour to the event as they all take on Hollywood names for the weekend… Last year Adele was made an honorary GOT as Lady Penelope! And yes she has the t-shirt to prove it!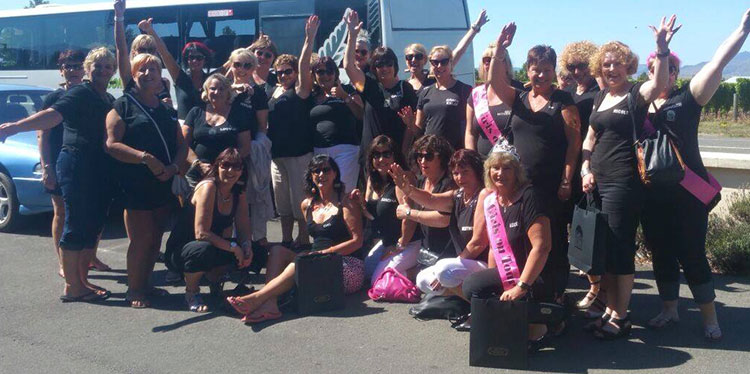 If you're visiting the Marlborough Wine & Food Festival here are our top 5 tips to ensure you have a corking time!
Don't forget the sunscreen – The weather gods have pretty much always been kind to us, so sunscreen, sunshades and hats are an absolute must!
Dress to impress – There are some great prizes up for grabs at the Fashion in the Vines competition, so load the Instagram app on your phone and get snapping your sartorial shenanigans. All the details are HERE.
Cash is King – There are cash facilities on site, but who wants to queue for money, when you could be drinking bubbles?!
Bring your dancing shoes – With a great line up of live music and Supergroove on the mainstage from 4:30 p.m. we know you'll want to boogie!
Make a weekend of it – Be like the Girls on Tour and make the most of your weekend by visiting the cellar door on Sunday. We'd love to see you!