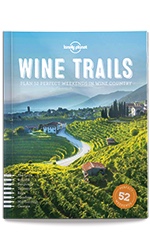 Do you know someone who loves travel and enjoys great wine! Well we've found the perfect gift so you don't have to!
This beautifully written and photographed hard cover "Lonely Planet" guide promises 52 perfect weekends. It introduces the secret gems in well-known regions such as Marlborough, Hawke's Bay, Central Otago, Napa, Sonoma, Tuscany, Burgundy and Rioja, and also explores off-the-beaten-path regions in Georgia, Greece and beyond.
Detailed itineraries recommending the most interesting wineries and the best places to stay and eat in 52 wine regions near major cities make this perfect for travel enthusiasts who enjoy wine. Winemakers offer personal insights into what wines to taste and why they're special and help you to understand a place, its people and their traditions through the wine that is made there. Gorgeous photography, maps and in-the-know authors complete the package.
Turn to page 204 and you'll discover the No.1 Family Estate entry. One of just eight entries from Marlborough.
Pop in to our cellar door where we have these fabulous books available for sale.