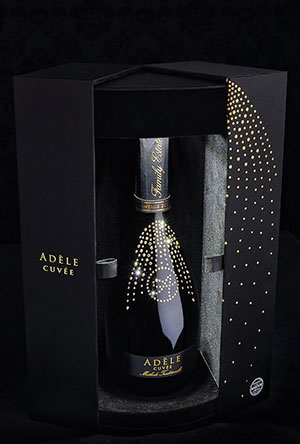 Exciting news! Our wonderful glittering star, Cuvée Adele, is back!
The release of this wine has been highly anticipated, with some of our clients joining the waiting list over a year ago!
This limited edition vintage cuvée was originally crafted specially by Daniel as a proud tribute to his wife Adele on a significant birthday and first released six years ago.
This 2013 vintage is only the second release of this stunning wine. And, once again, Cuvée Adele is available in extremely limited numbers. The wine is blended from handpicked grapes which are whole bunch pressed, (80% Chardonnay and 20% Pinot Noir).
This extraordinary wine sparkles with a tightly focused bouquet exhibiting light biscuity notes, toasted nuts and a firm mousse. It's also a sight to behold, beautifully presented in a wonderful gift box. With this latest release the gift box has been enhanced... In full Hollywood starlet mode, it lights up when you open it, illuminating the stunning Swarovski crystals on the bottle!
This is a perfect gift for the Christmas season, but be quick... We have extremely limited numbers and are taking orders through our cellar door only. You can phone or email to reserve your bottle. Contact us HERE.