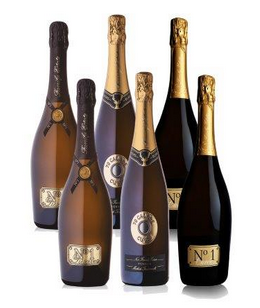 Father's Day is just around the corner, (Sunday 3rd September), but forget socks this year, we've got a gift that your Dad will really savour… And if you're lucky he might just share!
The Gentleman's Case has been newly released for Father's Day. This Limited-Edition mixed case has two bottles each of No. 1 Cuvée, No. 1 Reserve and 70 Calibre.
No. 1 Cuvée is not only the first wine produced by No. 1 Family Estate, it's also one of New Zealands most highly regarded Methode Traditionelle wines.
Each year, a limited amount of No. 1 is set aside for long-term aging on lees and released after several years as a "Reserve". This release from the family's winery was held on lees for five and a half years allowing full autolysis displaying a consistent superfine bead, and firm mousse resulting in a typical, complex, champagne-like character, and giving it the title of "Reserve". The palate is intensely flavoured and focused with the good fruit-yeast balance providing elegance and style. The extended lees aging has given it extra richness with complex biscuity notes, a well-balanced delicate freshness and a lengthy finish.
70 Caliber is a wine to celebrate our founder and winemaker Daniel Le Brun on the occasion of his 70th birthday and 35th year pioneering Methode Traditionelle in Marlborough.
This mixed case is available exclusively through our cellar door and online store.
Plus, we have a little extra gift that you could win when you order The Gentleman's Case. Any purchases made between now and the end of August will go into a draw to win a special No.1 Family Estate bubbles bundle… A No.1 Family Estate branded ice bucket, stopper, pair of glasses and paper napkins!