At No.1 Family Estate, we feel fortunate to be able to welcome many discerning wine lovers to our cellar door each year. We wouldn't be able to do this without our stellar cellar door team. So, in this week's article, we thought you might like to meet Jo, Donna and Delphine! Read on to find out more.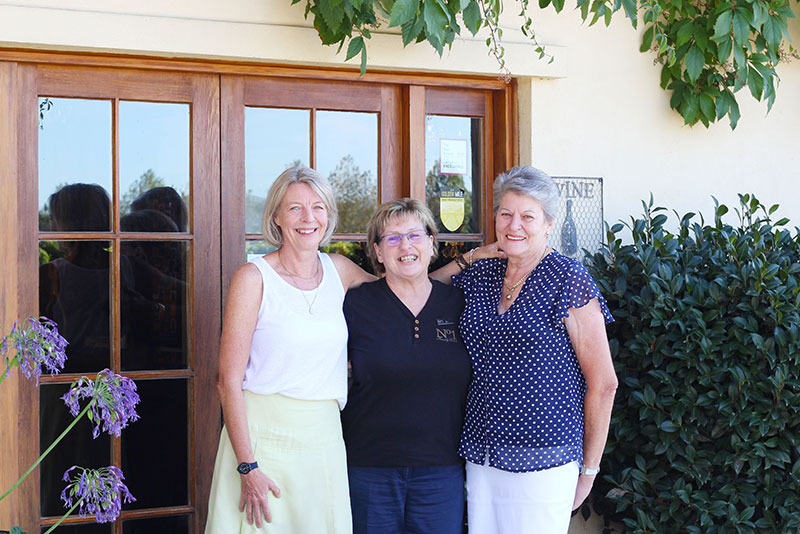 The Cellar Door Team - From left to right: Donna, Jo, Delphine.
Jo:
Jo joined the team in October 2018. With a background in hospitality, as a restaurant manager, she very quickly slipped into the role of hosting our visitors, who come from all over the world. Jo is now our cellar door manager, but she also supports the marketing team at various wine events around the country.
Jo's favourite part of her job is witnessing the reaction of people as they taste the wine, she says, "They are always in awe of the fine sparkling wines we produce here."
Asked to share her favourite No.1 Family Estate wine, Jo finds it tricky to decide… She eventually concedes that No.1 Rosé is her favourite summer sip! When it comes to a food and wine pairing, she's much more decisive, saying, "Anybody who knows me will be aware of my love of desserts. Adele's Lemon Posset with fresh Marlborough raspberries and No.1 Cuvée is difficult to get past!"
Outside of work, you'll find Jo in the garden, nose-deep in a good book or out and about enjoying the Marlborough lifestyle that she's always known!
Delphine:
Delphine joined the team over four years ago. With a background in retail, (as a department store buyer), and also in hospitality management; customer service has always been high on her agenda, so, she is a real asset to our cellar door team. Delphine really fosters the friendly, welcoming experience we consistently aim to achieve for our guests.
Delphine is a fan of No.1 Assemblé, which she loves to pair with salmon and a fresh, garden salad.
With an eye for detail and a keen interest in crafts, Delphine is also our go-to-girl when we need bespoke cards, decorations for a special occasion or simply to make our gift displays and cellar door look gorgeous.
Originally from the deep south, Delphine spent much of her adult life in Christchurch before settling in beautiful Marlborough, (much to our benefit!). Outside of work, she's a busy woman. You'll find her socialising with friends, joining in activities at the Lions Club or delivering Meals on Wheels!
Donna:
Donna moved to Marlborough in 2016 and joined the No.1 Family Estate family shortly afterwards. Previous to this, she had been based in Auckland, working for a global medical publishing company, where she ran the learning and development department, training young scientists to be medical writers. This background has armed Donna with a love of details, and our guests love to know all the interesting wine facts that Donna passes on.
Just like Delphine, Donna's favourite No.1 Family Estate wine is No.1 Assemblé. Firstly, because she loves the pronunciation of its name! But more importantly, because of its versatility. She says, "This wine stands alone as an aperitif, but also because of its intensity it holds its own as a food match." On the subject of food matches, Donna thinks a few smoked salmon canapés and a glass (or two) of her favourite No.1 Assemblé is pretty perfect.
Donna has fallen in love with the South Island, and when she's not working, you'll find her exploring, either by car or on foot!
---
When you are next in Marlborough, do call in to say hello to our stellar cellar door crew!