It's always exciting when a new restaurant opens just over the hills in Nelson. But the opening of Parts & Service (Hardy Street) at the beginning of November was doubly exciting as it's a new venture for our good friends Bronwyn Monopoli, Daniel Monopoli and Erin Palmisano of Boat Shed fame! They bring with them their Head Chef, Robin Goetzke, who has put together an excellent kitchen team, and Front of House Manager, Morgan Hawkins, who leads the bar and wait staff team.
We caught up with Erin to find out a little more about Parts & Service.
Q: Why was the top of Hardy Street the perfect location for Parts & Service?
Erin: This is our first business in Nelson city centre and everything about the location was perfect. Nelson is gaining a reputation as a food and wine destination for both tourists and local New Zealanders for weekend getaways. So, to be in the busy section of Hardy Street was always going to be an exciting venture. We have excellent neighbours, including Urban, Sprig & Fern, Char Bar, Arden and Casa del Vino. The combination makes Hardy Street as much of a food destination as the top of Trafalgar, which is always a great dining destination.
Q: Can you tell us about the dining style at the restaurant?
Erin: Dan had a very specific vision for the style of the restaurant which has come together beautifully. It's slightly industrial yet simultaneously warm and cozy. Our focus is mainly on the food, though with our cocktail list, our "well-travelled" wine list, and high top/bar seat set up, we hope it will also become known as a place to just come for a nice drink as well as for dinner! Friendly, casual, yet professional service is what we aim for.
Q: What sort of foods can guests expect to enjoy?
Erin: Our menu is diverse in flavour. From Middle Eastern, Indian, Asian to American influenced dishes. It features a section of bar snacks/small plates that range from fish ceviche, marinated watermelon salad, southern fried chicken and a Thai style pork hock! We have dishes that come from the smoker (currently a South American style short rib) but the main focus is the charcoal grilled fish, chicken, steak, and what we consider our speciality, our daily selection of cuts of meat (currently Picanha which is a beef rump cap and hunks of lamb leg) available in different portion sizes which are served to the table to share.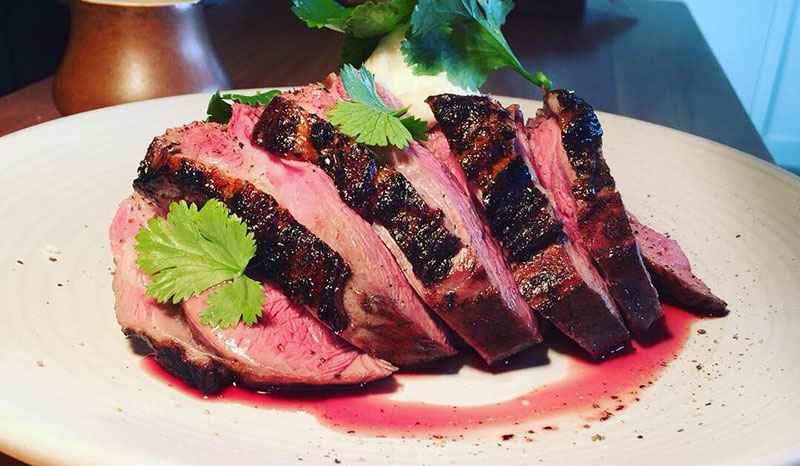 From the Parts & Service Grill - Lamb Leg, eggplant kasundi, coriander and drained yoghurt.

No.1 Rose features on your wine list, can you give us a few suggestions from your menu of dishes that it would pair with beautifully?
Erin: Well there isn't much the No. 1 Rose wouldn't pair with beautifully! That being said, I had a bottle the other night and with it, we shared the Thai style market fish ceviche with crispy chicken skin, red onion, mint, coriander & red chilli dressing and the potato pancake with kervella cheese, caramelized red onion jam & wild rocket (a good vegetarian option). With the full-bodied complexity of the No. 1 Rose I wouldn't hesitate to pair it with anything from the charcoal grill, most especially the grilled fish, half chicken, or the lamb.
Visit the Parts & Service Facebook page to view the menu online and book your table!